About us
Welcome to the Anderswelt ( Otherworld )
a family business since 1996.
Please forgive us translation errors?
Welcome to Brighid mp3

link:
U.K. English Welcome Voki mp3
Link:
Please click on the image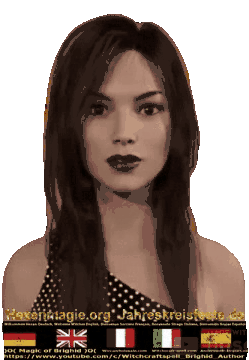 Witchcraft Witchtok, Welcome 5 Language, EN, FR, IT, ES, DE,
Modern Love spell, ChatGPT Animation Video
https://youtu.be/XTkDVoP1ZSg?si=isjI8-7bvqtsj52Y
All beginnings are difficult, and so it was with us.
Back then we started small
and made customers aware of us at medieval markets
street fairs and esoteric fairs.
All the hurdles that were put in our way,
made us rich in experience,
from which our customers can profit today.
Our goal has always been, and still is today,
to pass on our knowledge of natural religions to the people.
and to accompany them with our products and books
to accompany them into the world of magic.

We have always made all magical kits
and mixtures with herbs, resins or essential oils
taking into account the position of the moon, the planetary energies
and of course the power of the plants themselves
and thus also our positive energy.
This is then later our house brand
"Magic of Brighid" was created, in which we of course also
again placed value on 100% natural ingredients.
If magic is to work, then only through nature,
that is our conviction.

In order to be able to offer our customers favourable prices,
the area of shop maintenance, marketing and product presentation
and product presentation are exclusively in the hands of our family team.
So there are no additional external costs.

Fair and equitable dealings with our tradesmen, suppliers and
suppliers and above all our customers is very important to us,
and we will continue to do our best for you.

Your Anderswelt-Team ( Otherworld-Team )
DE, EN, FR, IT, ES,
Welcome Witches Sisters English,
Bienvenue soeurs Sorcières français, Benvenute Streghe sorelle italiano,
Bienvenidas hermanas Brujas español Video
https://www.youtube.com/watch?v=BeXyKu24VFA
Do you like our service?
Then we would be pleased to receive a positive review,
if you have a Google account.
Please click on Rating at the bottom left.
Thank you very much!
Google My Business Anderswelt Link:
Google My Business Magic of Brighid Link:
Rating Link:
...
...